ToxTalk, the Society of Forensic Toxicologist newsletter, recently had an article on krokodil.
Krokodil is a street drug developed in the Soviet Union in the early 1920s. Krokodil is a derivative of morphine called desomorphine. The use of desomorphine has reached the United States according to news outlets. Luckily, it has yet to reach Michigan, where Western Slope Laboratory is located. The concern with krokodil is the destruction it causes including flesh eating.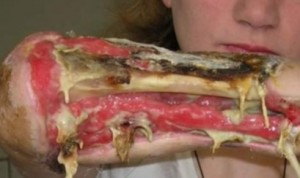 Though desomorphine is not being used in Michigan, Western Slope Laboratory does test for this compound and have had positive samples from other countries sent to our laboratory. Moreover, the desomorphine testing does fall under the scope of our ISO 17025:2005 accreditation.
It is important with all the designer drugs to recognize and stay on top of trends; Western Slope Laboratory is one of only a select few laboratories in the United States to test for desomorphine. Designer drugs are dangerous due to the lack of information available about their toxicity as well as the misconception that they must be safe because they are legal.
Parents, teachers, and other stakeholders should ever be on the lookout for changes in behavior, attitude, and health in their children. Educate them and yourself on these designer drugs and their hazards.